Scorpions In Ischgl
14.12.2012
The Scorpions played a gig for 13,000 fans at the opening of the ski season in Ischgl, Austria – at minus 10 degrees celcius!
"Californiaaaaaa!" – on Tour with the Scorpions in the Heartland of Hard Rock
02.08.2012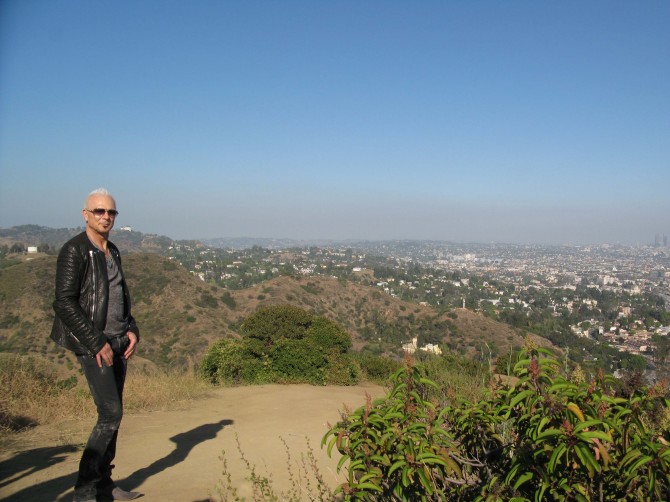 Rudolf Schenker at the Jerome C. Daniel Overlook on Mullholland Drive.
The Scorpions made a stop in LA on their farewell tour around the world. Our documentary film crew was on location, and we bring you this report by producer Daniel Remsperger:
"The Scorpions played more than 20 concerts in the United States and Canada this summer. The latest leg of their 2012 Final Sting World Tour took them clear across the US from the West Coast to what may have been their last concert ever in Washington, D.C.

The band's June 2012 return to Los Angeles, the Heartland of Hard Rock, felt like a home game. More than 20,000 fans filled up the Staples Center to say goodbye to Klaus Meine, Rudolf Schenker, Matthias Jabs, James Kottak and Pawel Maciwoda. The five musicians prepared a special set list for their US audience, and brought down the house with a powerful display of on-stage pyrotechnics.

During their stay in California, our FOREVER AND A DAY crew spent four days and nights tagging along with Germany's most successful rock band. The Scorpions are used to us by now. We've been following them closely on their farewell tour for the past two years, from giant stadium gigs in Brussels, Paris, Bangkok, London and Moscow to intimate recording sessions in Hanover and even to the opening of a Scorpions exhibition at the Rock 'n Pop Museum in Gronau, Germany.

Their stop in Los Angeles gave Klaus Meine, Rudolf Schenker and Matthias Jabs a chance to look back and reflect on US tours both present and past. Visiting landmark sites around the city, they spoke of the special relationship they have with their American audience. At the legendary Rainbow Bar & Grill, Klaus Meine was reminded of the band's first visit to California. Looking out over the city from the Jerome C. Daniel Overlook, Rudolf Schenker recalled how one California recording session produced a world hit. And while browsing at the LA Guitar Shop, Matthias Jabs ended up jamming with a Scorpions fan he met at the store.

Our camera team was even allowed to film the band at a location that's generally off-limits to fans; inside the tour bus. On route from San Diego to Los Angeles, the Scorpions told stories about their more adventurous road trips back in the early days, giving advice on how to avoid road rage.

Once they made it through the snarling California traffic, the five musicians were ready to do what they do best – put on a good show. Klaus Meine got the crowds fired up with his legendary battle cry: Califooorniaaaa!."
Pictures At An Exhibition
30.03.2012
The Scorpions exhibition in Gronau is in full swing. More than 200 exclusive items are on display in the 650 square metre exhibition venue – like stage costumes, musical instruments, fan presents, awards, rare film footage and a lot more. Here are some impressions from the exhibition opening and photos of some of the items on display.
The Scorpions On Display
06.03.2012
The rock 'n' pop museum in Gronau is honoring The Scorpions with an exhibition called "Rock You Like A Hurricane". The exhibition documents the band's 47-year history and runs until August 12. All five musicians were there for the opening. Here is a report by Reiner Schild, editor of DW music magazine "popXport".
The winners were drawn from all participants who took part in our "Scorpions Quiz" and answered all the questions correctly.
Winners of one "Scorpions Live in 3D" DVD each are:
Parlina Natalia, Indonesia
Silvana Santana, Uruguay
Hai Le Duy, Vietnam
Joelson Souza, Brazil
Winners of one signed "Comeblack" album each are:
Behrang Bina, Iran
Noubar Boyadjian, Lebanon
And the original Gibson Flying V autographed by the Scorpions goes to:
Dimitra Kamni, Greece
Many thanks to all participants and congratulations to all our winners!