The world premiere of FOREVER AND A DAY will be held in Berlin on 7 February. Here's a little appetizer.
Sneak Preview in Hanover
15.12.2014
The band was there when the first excerpts from the Scorpions documentary FOREVER AND A DAY hit the big screen at the Astor Grand Cinema in Hanover. The Musicians and invited guests were more than impressed. PopXport, Deutsche Welle's music magazine, was there to catch the first reactions.
Singer Klaus Meine said: "In the past no camera team was allowed to come as close to us as during the making of this documentary. The film portrays not only the glamour and rock'n'roll of our live performances, but also gives an insight into the darker side of the music industry: self-doubt and personal conflict."
Guitarist Rudolf Schenker added: "It is not just a music documentary, it is more. The film works on different levels and touches the heart also. What more can you ask for?"
Scorpions Interview: 'Too much fun to quit now'
11.07.2014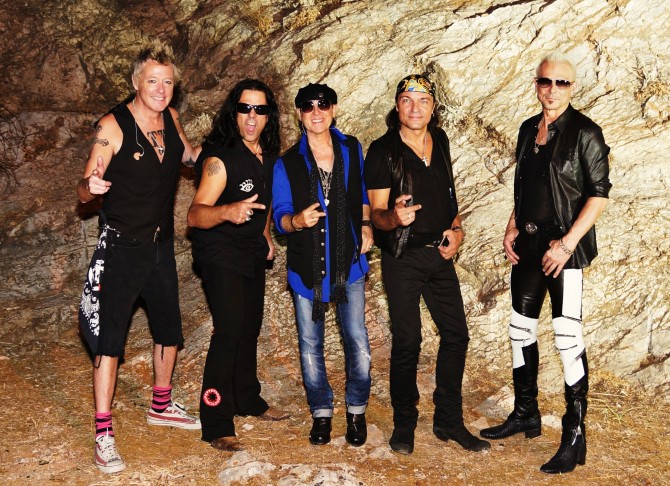 The most successful German rockers of all time have sold more than 100 million records and given thousands of concerts. They expected to be done in 2012, but things turned out differently. In this interview, singer Klaus Meine, guitarist Rudolf Schenker and lead guitarist Matthias Jabs talk about saying farewell to the farewell, the challenges of unplugged concerts, the band's upcoming 50th anniversary, the documentary film FOREVER AND A DAY and the album they're currently working on.
DW: In 2010, you announced you would end your career together after a three-year farewell tour. In early 2013 came the decision to keep going. Why?
Klaus Meine: When you start a three-year farewell tour, you know you've got a long time ahead of you. But that long period went by much faster than we imagined. The closer we got to the goal – Munich in December 2012 – the stronger the feeling was that we hadn't come to the end at all. There were so many images in our minds and so many emotions in our hearts. Everything we experienced between 2010 and 2012, the 200 concerts – it was all so powerful. You stand on stage, look down and see so many fans – including the younger generation, who are really getting into it and saying: 'Guys, this is so cool. We're seeing you for the first time. When will you be back?' It's so motivating and inspiring to play for three generations. We're all having too much fun to put down the guitars.
Rudolf Schenker: The success of the farewell tour bowled us over. When you see you've got a whole new generation in front of you – lots of 18-, 19- and 20-year-olds – then you get a whole new kick out of it. Essentially, we announced the farewell tour because we didn't want to be standing on stage and not able to deliver what people expected from us.
Matthias Jabs: At first, there were plenty of arguments in favor of stopping. But we were quickly overshadowed by the feeling of how much fun it all is. It doesn't matter where we went, the shows were packed – in South America, the US, throughout Europe. So, we just thought: This can't really be the end.
Then came the offer to play an MTV Unplugged concert in Athens, which would later be put out on CD and DVD. What does the Unplugged series mean to you?
Klaus Meine: It was early 2013 when we got the MTV Unplugged offer. That really brought out the thrill of the chase in us, and we said: 'MTV Unplugged? Are we supposed to say: too bad, but we just quit? Of course not.' So, we all quickly agreed that it was the next challenge. MTV Unplugged really is a brand, even if MTV is no longer what it was during its 80s glory days. But there's a really strong story there. Really the best musicians in the world have participated, and you want to be part of MTV Unplugged history. So, for us, that was an invitation we really couldn't turn down and accepted with total passion.
What's the challenge when it comes to MTV Unplugged?
Matthias Jabs: The acoustic guitar is completely unforgiving. You have to play with much greater concentration and precision. With an electric guitar, particularly with some distortion, you can just go at it, and the sound lingers. But with acoustic guitar, every note has to be played at the right time. That just makes it tougher.
What role does social media play for you?
Klaus Meine: For a live band as globally present as Scorpions, the internet has become an ally – in the sense that people can watch songs on YouTube after almost every concert. Then young people see them and say: When Scorpions come to my country, I want to go check it out with my friends because it's definitely full-service rock'n'roll, and we'll have a good time. Then they leave the concert and talk about having seen it and how cool it was – that it wasn't just some old man rock combo on tour, but a band whose music really spoke to them.
Next year, you'll celebrate 50 years of Scorpions. What are you planning for the anniversary?
Klaus Meine: In 2015, when we celebrate – and it's almost hard to say it – the 50th anniversary, then of course we'll want to put out a strong album. We've been in studio the last few weeks, continuing with what we started in 2011. We're calling the project "Outtakes." We've gone back and listened to songs from the 80s, going through our archives, opening all the drawers. We found a lot of material – many tracks we never released, including some we didn't finish composing. There were also drafts of lyrics, and I sat back down and wrote new ones. There was a gem or two in there. The album will also have new material – songs we're putting together now. It's a really exciting project.
What's the latest on the documentary film FOREVER AND A DAY that DW and German broadcaster ZDF commissioned from director Katja von Garnier?
Klaus Meine: It'll also be released in 2015. A camera team followed us around the world in recent years – in Bangkok, Berlin, Munich, Paris, Los Angeles and Moscow. Recently, we had a screening of the final version of the film. It was really crazy because there's so much material we couldn't even remember, like Scorpions on tour with the old band bus in the early 70s. There are so many pictures there that no one but us has seen. I think it'll be a really special film for our fans.
Film Shoot Comes To An End In Munich
21.12.2012

An OB van, 14 cameras, 47 crew members: The personnel and equipment for the last day of shooting FOREVER AND A DAY in Munich's Olympiahalle. The Scorpions documentary is a Deutsche Welle production. On the program: What could be the last concert on the hard rock band's three year farewell tour around the world.
The Munich finale was especially challenging for director Katja von Garnier. She not only sat in the OB van directing the camera cranes, robot cameras, SteadyCams and Polecams. She also shot footage in the backstage area and conducted interviews with the musicians. She's been accompanying Germany's most successful rock band for a year and a half now. Earlier stops included Thailand, Russia, England, Belgium, USA, France and Germany. In February, the director will lock herself into an editing suite to finish the film by June.
14,000 fans showed up at the sold-out concert in Munich. For more than two hours, the Scorpions played their biggest hits including "Rock You Like A Hurricane", "Still Loving You" and "Wind Of Change". Front man Klaus Meine has said he's looking forward to the upcoming documentary film. In early 2010 the musicians announced they would end their career after a three-year world tour. But during the tour they were met with so much good will, and had so much fun touring, they decided to leave a small opening. It looks like the Scorpions will continue playing concerts in 2013 after all…
A Short Report From PopXport On The Ischgl Concert
14.12.2012