Euromaxx Report on the World Premiere
10.02.2015
The Scorpions are one of the most successful rock bands ever. This year marks their unbelievable 50th stage anniversary. During their "Farewell Tour" they decided that they want to just keep on rocking. The documentary FOREVER AND A DAY which is co-produced by Deutsche Welle traces the band's unique history. Here is a report on the world premiere of the film in Berlin.
World Premiere in Berlin
09.02.2015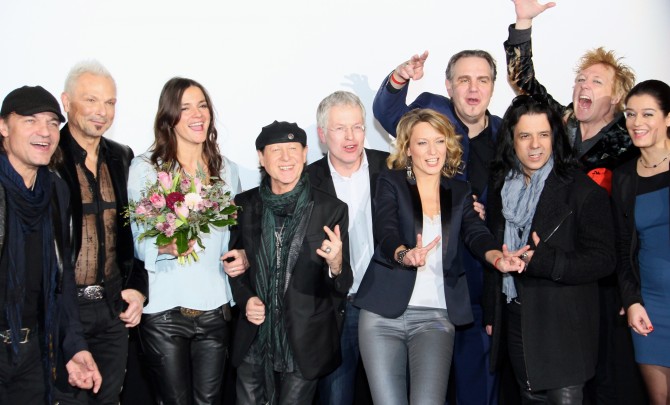 Just before 10:30 p.m., standing ovations greeted Scorpions in Theater 3 of the Kulturbrauerei (Culture Brewery) in Berlin. Saluting the decades-old style of the hard rockers from Hanover, many of the 600 visitors donned black leather with silver rivets. Scorpions have their loyal fan base, for whom being there for the premiere of the band's first feature-length film was a must.
In 100 minutes, viewers get an inside look at the band's dynamics and the musicians' feelings. Over the course of the movie, the band members have a growing trust in the film makers and are rewarded for their honesty. Warm applause at the scene where it becomes clear that front man Klaus Meine has one of the few happy marriages in the rock business. The 66-year-old singer has been wed to his wife Gabi since 1977.
"It's a great moment of moviemaking in the truest sense of the word," said Rolf Rische, DW's Head of Culture, after the screening. He'd had the idea for the film seven years ago and is gratified with the premiere. Klaus Meine also likes to recall their first conversation years ago, saying, "Now it's 2015, we're standing here and have gone through it all together!"
Peter Limbourg, DW's Director General, was highly satisfied with "Forever and a Day," saying, "With productions like these, we can show the kinds of great things Germany has to offer." Limbourg elaborated on the parallels between the band and his international broadcaster: "Each, in its own way, is a kind of ambassador of Germany, and we do our part to carry that image abroad."
Intense collaboration
"Forever and a Day" follows the long farewell tour of Scorpions, enthusiastically celebrated from Bangkok to Moscow. It's no secret what happens at the end: the band hasn't disbanded after all. Instead, they're marking their 50th anniversary in 2015 with a new tour, a new album – and this movie. It was a long-term project: over a period of three years, the film crew met the quintet over and over again at stops on the tour in every part of the world. "They went in for the long haul – and that's why we wanted a director with whom we had the right chemistry," said Meine. That director was Katja von Garnier. Having first met the hard rockers over a dinner of asparagus at a countryside hotel, she discovered an interesting paradox: "They're down to earth and on time," said von Garnier, "Yet they live according to the motto 'The sky's the limit.'"
The complexity of making the film was clear when all the partners participating appeared on stage. Along with DW, they included the film distribution company Tempest Film, production company DOKfilm Babelsberg, public television broadcasters ZDF and Arte, Nordmedia Film Promotion and FFA, the German film promotion corporation. All had agreed from the start that the film wouldn't be a run-of-the-mill tour documentary. Lead guitarist Matthias Jabs summed it up: "Who wants to know that a band has sold out another stadium?"
50 years in the service of hard rock
It's a story about music and friendship instead, with the band's secret of success being decades of mutual loyalty on the part of its members. The premiere audience was enthused: "The film is a salute to the band's lifetime achievement," said Marcel Schleiff, filmmaker and hardrock expert. Most impressive, he felt, were the Super 8 films from the band's archive, never shown before.
Strong laughter was generated by band founder Rudolf Schenker's memories of the early days – such as the story of a performance at a tennis club that had been arranged by the unemployment agency, or the German rockers' overly punctual appearance at their first gig in Liverpool. The guitarist and songwriter felt in good hands with the director, saying, "She took off the Scorpions' macho mask, and behind it, revealed an entirely different band."
New energy
Most of all, the film is designed to appeal to its viewers – including those not otherwise interested in hard rock. It worked well at the premiere in Berlin. Klaus Meine admitted that his heart was beating a bit faster than normal. Also proud of the results, Matthias Jabs added with a smile: "If I know us, there will have to be a Part Two, 'cause we just never stop." DW's Rolf Rische is open to the idea: "Definitely – now that we've built a relationship of trust, you can work together in a completely different way."
But first, it's time for all the participants to collect their accolades. At every juncture of the 2015 world tour, the film will be shown in local movie theaters. With the premiere of "Forever and a Day," Scorpions' anniversary year got off to a ceremonious start.
The world premiere of FOREVER AND A DAY will be held in Berlin on 7 February. Here's a little appetizer.
Sneak Preview in Hanover
15.12.2014
The band was there when the first excerpts from the Scorpions documentary FOREVER AND A DAY hit the big screen at the Astor Grand Cinema in Hanover. The Musicians and invited guests were more than impressed. PopXport, Deutsche Welle's music magazine, was there to catch the first reactions.
Singer Klaus Meine said: "In the past no camera team was allowed to come as close to us as during the making of this documentary. The film portrays not only the glamour and rock'n'roll of our live performances, but also gives an insight into the darker side of the music industry: self-doubt and personal conflict."
Guitarist Rudolf Schenker added: "It is not just a music documentary, it is more. The film works on different levels and touches the heart also. What more can you ask for?"
Scorpions Interview: 'Too much fun to quit now'
11.07.2014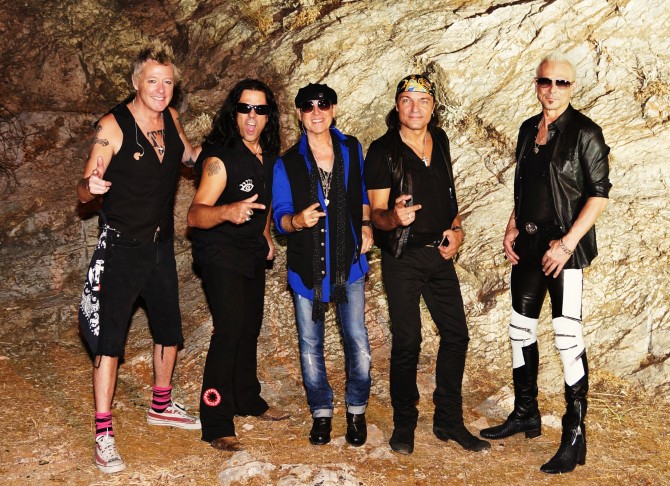 The most successful German rockers of all time have sold more than 100 million records and given thousands of concerts. They expected to be done in 2012, but things turned out differently. In this interview, singer Klaus Meine, guitarist Rudolf Schenker and lead guitarist Matthias Jabs talk about saying farewell to the farewell, the challenges of unplugged concerts, the band's upcoming 50th anniversary, the documentary film FOREVER AND A DAY and the album they're currently working on.
DW: In 2010, you announced you would end your career together after a three-year farewell tour. In early 2013 came the decision to keep going. Why?
Klaus Meine: When you start a three-year farewell tour, you know you've got a long time ahead of you. But that long period went by much faster than we imagined. The closer we got to the goal – Munich in December 2012 – the stronger the feeling was that we hadn't come to the end at all. There were so many images in our minds and so many emotions in our hearts. Everything we experienced between 2010 and 2012, the 200 concerts – it was all so powerful. You stand on stage, look down and see so many fans – including the younger generation, who are really getting into it and saying: 'Guys, this is so cool. We're seeing you for the first time. When will you be back?' It's so motivating and inspiring to play for three generations. We're all having too much fun to put down the guitars.
Rudolf Schenker: The success of the farewell tour bowled us over. When you see you've got a whole new generation in front of you – lots of 18-, 19- and 20-year-olds – then you get a whole new kick out of it. Essentially, we announced the farewell tour because we didn't want to be standing on stage and not able to deliver what people expected from us.
Matthias Jabs: At first, there were plenty of arguments in favor of stopping. But we were quickly overshadowed by the feeling of how much fun it all is. It doesn't matter where we went, the shows were packed – in South America, the US, throughout Europe. So, we just thought: This can't really be the end.
Then came the offer to play an MTV Unplugged concert in Athens, which would later be put out on CD and DVD. What does the Unplugged series mean to you?
Klaus Meine: It was early 2013 when we got the MTV Unplugged offer. That really brought out the thrill of the chase in us, and we said: 'MTV Unplugged? Are we supposed to say: too bad, but we just quit? Of course not.' So, we all quickly agreed that it was the next challenge. MTV Unplugged really is a brand, even if MTV is no longer what it was during its 80s glory days. But there's a really strong story there. Really the best musicians in the world have participated, and you want to be part of MTV Unplugged history. So, for us, that was an invitation we really couldn't turn down and accepted with total passion.
What's the challenge when it comes to MTV Unplugged?
Matthias Jabs: The acoustic guitar is completely unforgiving. You have to play with much greater concentration and precision. With an electric guitar, particularly with some distortion, you can just go at it, and the sound lingers. But with acoustic guitar, every note has to be played at the right time. That just makes it tougher.
What role does social media play for you?
Klaus Meine: For a live band as globally present as Scorpions, the internet has become an ally – in the sense that people can watch songs on YouTube after almost every concert. Then young people see them and say: When Scorpions come to my country, I want to go check it out with my friends because it's definitely full-service rock'n'roll, and we'll have a good time. Then they leave the concert and talk about having seen it and how cool it was – that it wasn't just some old man rock combo on tour, but a band whose music really spoke to them.
Next year, you'll celebrate 50 years of Scorpions. What are you planning for the anniversary?
Klaus Meine: In 2015, when we celebrate – and it's almost hard to say it – the 50th anniversary, then of course we'll want to put out a strong album. We've been in studio the last few weeks, continuing with what we started in 2011. We're calling the project "Outtakes." We've gone back and listened to songs from the 80s, going through our archives, opening all the drawers. We found a lot of material – many tracks we never released, including some we didn't finish composing. There were also drafts of lyrics, and I sat back down and wrote new ones. There was a gem or two in there. The album will also have new material – songs we're putting together now. It's a really exciting project.
What's the latest on the documentary film FOREVER AND A DAY that DW and German broadcaster ZDF commissioned from director Katja von Garnier?
Klaus Meine: It'll also be released in 2015. A camera team followed us around the world in recent years – in Bangkok, Berlin, Munich, Paris, Los Angeles and Moscow. Recently, we had a screening of the final version of the film. It was really crazy because there's so much material we couldn't even remember, like Scorpions on tour with the old band bus in the early 70s. There are so many pictures there that no one but us has seen. I think it'll be a really special film for our fans.